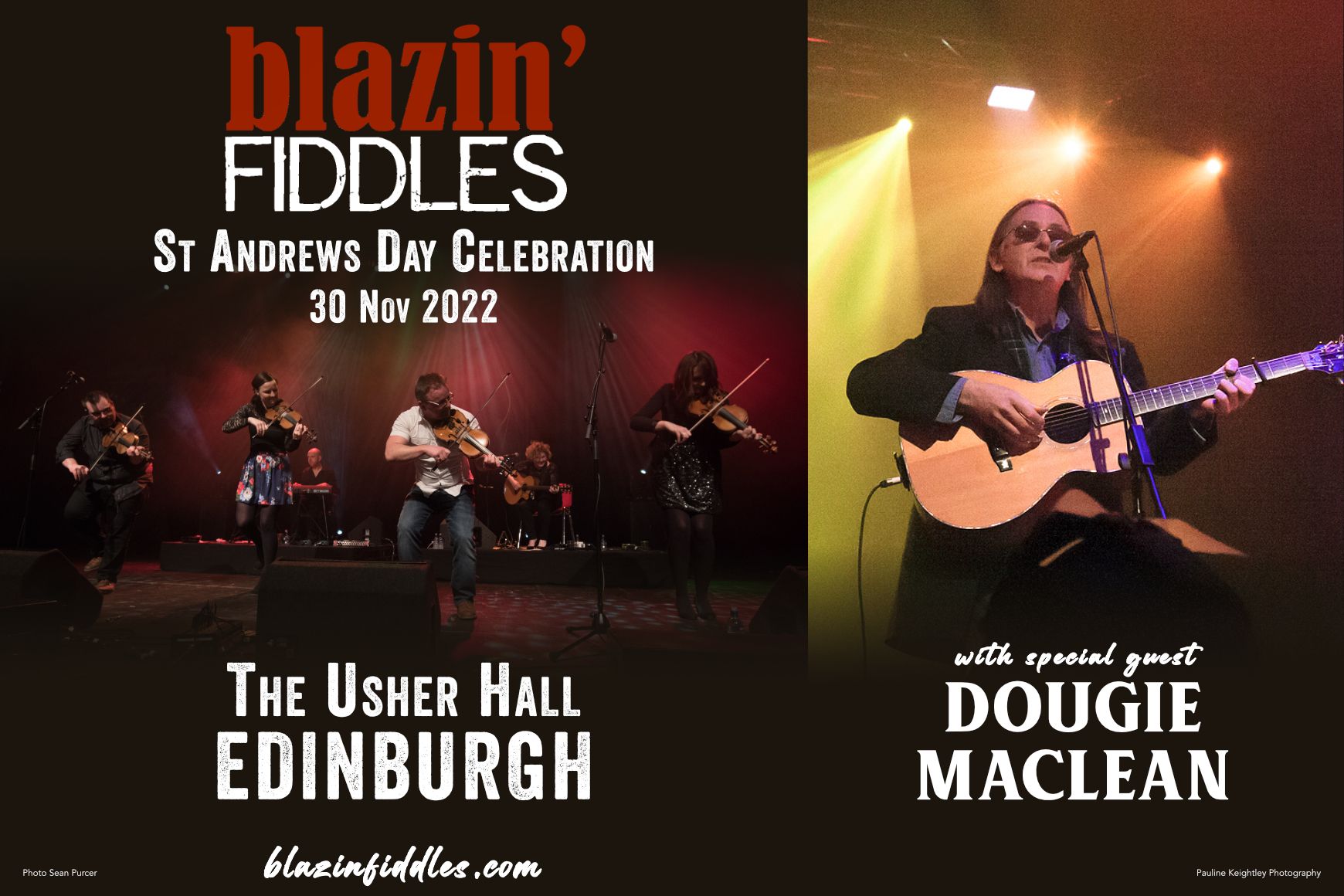 Scotland's most celebrated fiddle band Blazin' Fiddles will join together with Dougie Maclean for a St Andrew's night celebration. 
Click here to book your tickets now!
Blazin' Fiddles' dynamic live show draws together the distinct musical flavours of the Highlands and Islands.  Blending solo and ensemble sets, they come together in a fiery blend to excite your senses.  From remote village halls to the BBC Proms at the Royal Albert Hall, the power house fiddle quartet of Bruce MacGregor, Rua Macmillan, Jenna Reid and Kristan Harvey, are joined by the formidable Anna Massie on guitar/fiddle and Angus Lyon on piano, to deliver a musically intoxicating evening. 
Bruce MacGregor, founder of Blazin' Fiddles, said: "I still pinch myself that we're at 24 years! It was only meant to last for four concerts back in 1998 but here we are 24 years later still going strong. I can't wait to have Dougie Maclean guesting with us on this special concert. 
"When the band started in 1998 it was born out of a desire to showcase the Scottish fiddle, in all its guises. We drew on influences from all of the fiddle playing regions of Scotland and put these together in one band; this is why for us, in our 24th year, it is so important to tour Scotland and bring our music to as many areas of the country as we can. We hope to see you there!" 
"Dougie MacLean is Scotland's pre-eminent singer-songwriter and a national musical treasure" (SingOut USA) who has developed a unique blend of lyrical, 'roots based' songwriting and instrumental composition. He is internationally renowned for his song 'Caledonia', music for 'Last of the Mohicans' and inspired performances.His songs have been covered by Paolo Nutini, Amy MacDonald, Ronan Keating, Mary Black, Frankie Miller, Cara Dillon, Kathy Mattea and many other top performers. He has received two prestigious Tartan Clef Awards, a place in the Scottish Music Hall of Fame, a Lifetime Achievement Award from BBC Radio 2 Folk Awards and an OBE!